PO Box 484, Pouce Coupe, British Columbia, Canada V0C 2C0
e-mail lyaciw@pris.bc.ca


and

Accepted
Updated Feb 26, 2003

CB/QH Filly for sale
Legacy Annihilator (Annie)
Registered CB partbred with CBHS & CLRC
SOLD
Our thanks and congratulations to Jim & Cindy Martishius of Oregon!
Foaled May 29, 2000
14.2 1/2 hands at Jan 13/02
Dam: Jaded Three, Quarter Horse
Sire: Forest Fellow, Cleveland Bay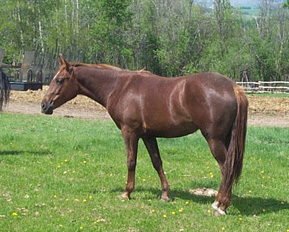 Annie is a chestnut with a wispy blaze & small sock on both rear legs. White rear feet, black front feet.
Wide chest, huge bone, straight legs, good big feet, does not paddle
Not an alpha mare, not opinionated.
Very friendly, easy to catch, not spooky - a sweetheart.
Athletic. Annie could go English, western or driving. She will probably mature to a substantial horse and would be a suitable mount for a big person. She is sturdy and strong and has good weight-bearing ability, and should be strong in draught. She would also make a good mountain horse for hunting big game.
Oustanding trait of this filly is her temperament. Virtually everyone who visits our farm remarks on it. She is so mellow she would make a good child's mount.
Would likely make an excellent driving horse as she is not predisposed to spooking or bolting. Her full sister is Legacy Belle, foaled in 2001, and Legacy Chester foaled in 2002, both of whom are for sale. Full brother Legacy Houston, foaled 1999, was exported to Sam and Julie Garre in Wisconsin.
$5,000 CDN + GST
GST not applicable if exported
SOLD
Meals on Wheels!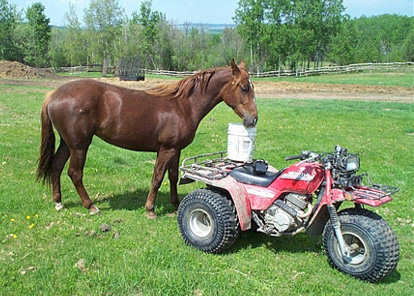 Legacy Annihilator as a 2 year old in June 2002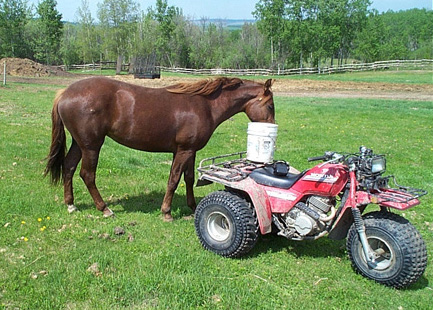 Nicely rounded topline, strong, big bodied, friendly mare ...and bucket trained!
Back to Annie's Dam, Jaded Three