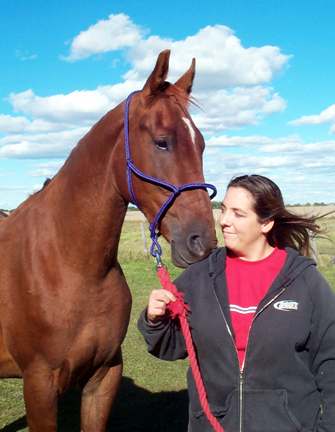 He's fun to be around; he likes people!
Thanks to friend and handler Patty Dupuis for helping me take photos today.
Big mover!

This colt is tall and elegant. He is adorable - friendly and inquisitive with his soft muzzle. No fear. Can really arch his neck nicely, very handsome! Showing the trademark Cleveland ears...

Chester is a pest. Follows me around the pasture, hoping for some attention. Chester is 16-3hands.

Chester is a fancy horse and has good weight-bearing ability; lots of substance and bone. He would make an excellent pleasure riding horse either English or western, and has the potential for jumping. He would make a fabulous driving horse.
Chester has been started under saddle by local trainer Rea Chapman in spring of 2006. He was kept at the stables in Dawson Creek for two months, during which he had a month's basic training put on him, which amounted to approx. 30 hours of riding time. When I asked Rea to ride him so I could make a video, this was 2-3 months later and he had not been ridden in the meantime. He was the same as when he had taken his initial training; when he learns he retains his training.