Linked pages at left which are not live are being updated -
please check back

Breeding Info.

Forest Fellow
Licenced by CBHS (UK)
for pure and partbred breeding

Purebred Cleveland Bay stallion.
Foaled May 1, 1995
Registered with Cleveland Bay Horse Society (UK) SB #2395
Registered with Canadian Livestock Records Corp. #2
Live cover
Frozen semen available in Canada and USA
Imported from UK
Breeder: David Keenleyside
9 3/4" diameter cannons
17+ hands
Huge knees and hocks, good flat bone, large well-formed feet
Animated action, ground cover action, big mover

Photos: Yearling & 2 yr old
Photos: 5 years old
Photos: Coming
Photos: Coming
Videos
Pedigree
Offspring for Sale
Bred Mares for Sale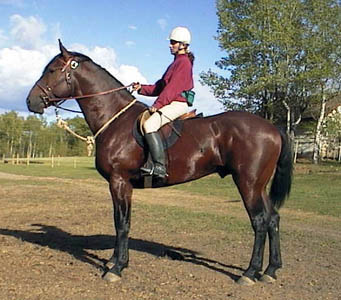 Fellow is well made, balanced in his conformation, and functionally correct. He has three correct gaits, is very straight in trot and walk and has a good canter. He is also quite handsome, and is an upstanding individual with an excellent character. He has excellent potential as a jumper due to his strong and balanced frame. His offspring should be considered for driving, jumping and dressage.
Fellow has had a limited show career. He has been shown at halter in only four shows winning Grande Champion, Reserve Champion, and Second. He has been broke to drive. He was started under saddle by Jennifer Sale of Victoria, BC (see photo) as a four-year old.
Fellow's pedigree can be traced to 1804.
Close-up heavyweights in his pedigree include Mulgrave Supreme (owned by HM the Queen), Forest Superman (from whom most CB dressage horses descend), and Forest Saga - all premium stallions who have won the King George V cup multiple times. Females include the good show mare, Forest Foursome.
Fellow's sire, Forest Farnon, "...was short, smooth coated and quite different to other Clevelands who were mostly common looking. Farnon was supposed to be the up and coming stallion."
Fellow's breeder, David Keenleyside was a stalwart of the CB breeding community, having devoted 51 years to the breed before his death in 1997. David was inspector, judge and stud book editor, and produced many premium, prize winning CB horses from his Forest stud, all of which carry the Forest prefix.
Cleveland Bays are an endangered breed, legendary for their prepotence. They have been used extensively to upgrade other breeds, notably warmbloods. Crossbred offspring excel at dressage, driving, jumping, combined driving, foxhunting, and 3-day eventing, and in the western disciplines they make excellent ranch rope horses and pleasure horses.
The sucess of the CB/TB cross has been well documented, and is expressed succinctly in the following quote by Joanna Dorman - "When crossed with a Thoroughbred, the offspring have that extra turn of speed which has made them the outstanding three-day-event horse. In fact, all four reserve horses of the British Olympic gold medal winning team in Mexico were young partbred Cleveland Bays, which, considering their rarity, is no mean achievement."
e-mail lyaciw@pris.bc.ca to request a frozen semen contract via e-mail