(Saddle sold)
WOOL
SADDLEPAD
Only $175.
Canadian Funds
Add $10 for brands or initials.
30" x 30" pleasure
30" x 32" roper
Pure wool
(4 1/2 lbs)
2 inches thick
Natural shades

Natural fibre -
New Zealand wool - chosen for its resistance to "shedding."
Hand-hooked on natural burlap backing, very strong, maleable, and breathable.
Quality, hand made item by long-time craftsman.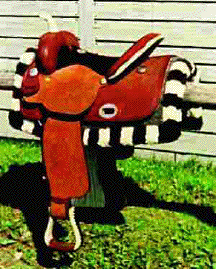 These make super nice,
highly-appreciated gifts!
You can 't find them,
"just anywhere"
We have sold many of these excellent
quality pads, and have had many
return customers for them!
Border can be checked as shown, plain, or no border at all. Can be ordered in colors and custom sizes and shapes for a higher price.

Comfortable for your horse. High loft and natural fibres allow air circulation. Does not feel clammy to your sweaty horse, similar to pure wool socks on people. Ropers especially like these pads for their concussion value.
Made by a local rancher craftsman. Please allow adequate time for make-up, especially during the busy seasons of ranching.