#41122-791
12" pony saddle
by Western Rawhide
lifetime guaranteed ralide tree, tapaderoes, suede seat
Includes latigoes and cinch
This saddle is designed to fit horses and ponies.
Comes in black, dark oil, tobacco, or light colours.
$350 Cdn, saddle only
---
Pony package
Christmas Special
in stock, shown at right
tobacco coloured saddle with pony headstall, reins, and pony pad.
pony cinch or horse cinch, your choice
all you need is a bit!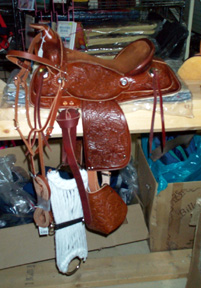 One Set in stock only

Only $295