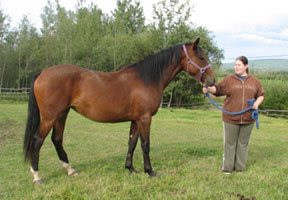 This mare has potential to go in many directions since she is put together right, that includes all English disciplines, many western and, of course, driving. Lesley and boyfriend Chadd were in the process of purchasing Friday, but their relationship ended and Friday became a casualty of their breakup, so now she is back with me. Chadd is a novice, yet he was able to take Friday and back her himself and got her going very well. Friday was kept in the local stables/barns over the winter of 2007/08, and as a result has learned patience and has confidence in her own solitary company, which means she is not at all herdbound. Chadd started Friday just with a halter, but there is a video on the web showing Chadd using a bridle on her for the first time. She ties well, loads well, trailers well, and is good with her feet for trims, has never been shod. She has been ridden only in the arena, however, since she has grown up on a quarter section she should handle the great outdoors with no problem.

Photos taken in August 2007 with the help of Lesley Popovich.
Coincidence? Friday was born on Friday.This filly is very typy CB like her sisters. She has a friendly disposition, easy to catch, likes people. Has been raised with a herd so is well socialized. Measured at 15-1 hands on Feb 28/10. A pretty filly with big bone and excellent feet, and a powerful hind end. Good straight movement, and tracks up wonderfully, expansive, ground covering gait, smooth ride. Very mellow horse, yet bright, inquisitive (or just plain nosey), willing, and very easy to get along with. No vices.
She has a blemish on left hind cannon, a raised scar about
1 inch high as a result of a wire cut. Vet has stated he will provide a vet certificate stating she is sound if requested. Her price has been reduced because of this. This is a bargain-priced CB partbred.
Friday is by TB mare called Just For Mom, who has excellent conformation as stated by my vet, Mike Ross, who specializes in judging conformation classes. Friday also has excellent conformation and is very athletic. Besides making a using horse, she has the genetics to make an excellent broodmare.
To see foal photos, click here.
LINKS DON'T WORK TO THIS VIDEO ANY MORE. TRYING TO SEE IF I CAN FIND OUT IF IT IS STILL ONLINE. To see video of her under saddle using bridle for the first time:
http://www.jumpcut.com/view?id=151871F8D15E11DC93B0000423CF037A
To see a video of her sire, Forest Fellow, when he was an immature and gangly youngster (he's filled out since then), but being started under saddle, see: http://www.youtube.com/v/tN7RZvupa80
Note this video is a conversion from VHS tapes, so the quality is not good. However, you can see temperament and movement.