and

Accepted

---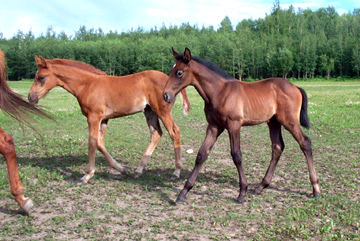 Above - Legacy Escort and Legacy Extravagant in June 2004
Extravagant was a black bay when he was born, with grey starting around his eyes.
Legacy Extravagant
CB/TB Colt

This photo was taken in late July 04.
Typical typy profile of a CB.

He has lightened considerably, and has some mousy grey patches. I expect he will be a silver dapple grey like his dam
when he matures. To see how he will be coloured as a yearling, take a look at Diva, his yearling full sister.


Extravagant will probably be a tall horse. His full sister, Chinook (Colorado)
is very tall at two years old (in 2004) and is expected to reach 17 hands.

Extravagant's yearling full sister, Diva, is also a brown , turning grey.
These two would make a great matched driving team, suitable for combined driving.

I expect Extravagant to be a high calibre performance horse,
suitable for jumping, eventing, foxhunting, dressage, and combined driving.
In the right home, this colt could excel.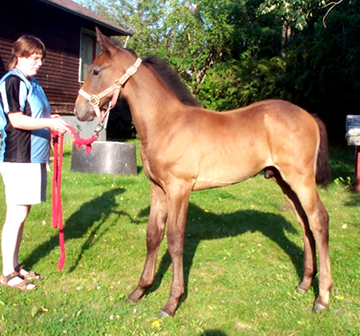 He is a kind and agreeable colt. He has had his first hoof trim, and stood tied quietly while his feet were being handled and his dam stood close by.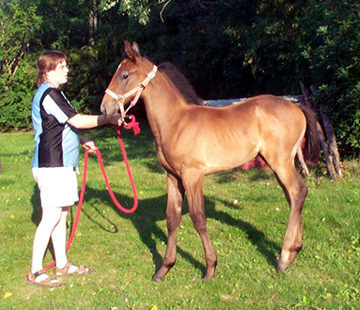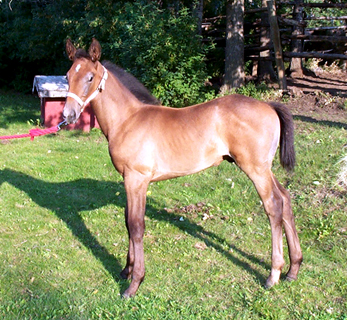 He is wanting to race back to his dam.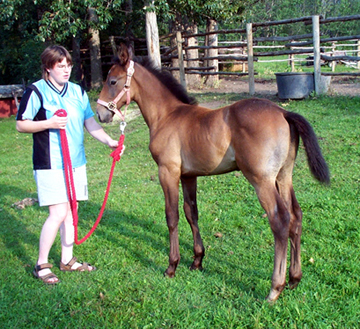 The above photos were taken at the end of July 04 at about 7 weeks old.
For Sale at Weaning - $6,500
Canadians add GST