"The Wonderlichs bred Gallant Ghost. Sired by their stallion Peppy Spook, he traced to Tinky's Spook and Peppy (AQHA) on his top side, and he was out of Bold Farina (AQHA). His name was derived from his unique color coat pattern.
Viewed from opposite sides, Gallant Ghost looked like two different horses. His face was excessively white on the left side, but solid with a blue eye on the right. Running through a herd of horses, Butch said "Ghost" seemed to disappear whenever he changed directions.
As a 2-year old, Gallant Ghost won the Snake River Chariot Racing Association's year-end award and finished fifth at the All-American Chariot Futurity, running against 47 teams of Quarter Horses and Thoroughbreds. On the racetrack, the stallion recorded a speed index of 87.
He earned Superiors in halter and Western pleasure, and ROMs in barrel racing, heading, heeling, hunter under saddle, reining and Western riding.
In May of 1979, Gallant Ghost earned both his Superior All-Around award and Supreme Championship in Filer, Idaho.
The Wonderlichs never sold Gallant Ghost, and he sired 257 Paints in 21 foal crops. Those foals earned 14 APHA Championships. Gallant Move, a 1980 bay tobiano stallion out of Ms. Move, became a Superior All-Around Horse and the breed's 39th and latest Supreme Champion.
Gallant Silhouette, a 1978 bay tobiano mare out of Silly Filly, earned nine World or National Championships in Youth competition and three Youth APHA Championships.
RoseAcre Farm (belonging to the Wonderlichs) also bred APHA Champions such as Bold Bikini, Gallant Hug, Ghost Tale and Super Chic."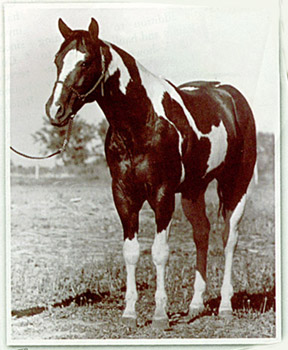 Tinky's SpookXXxxxXXXXXXXXX
Tinky's Spook
"They purchased Tinky's Spook for around $200 and campaigned him to an APHA Championship in 1970.
Later, in 1974, they auctioned off the 1965 sorrel tobiano stallion for a record $12,500.
By Tiny Joe (AQHA) and out of Calico Hancock, Tinky's Spook went on to sire 156 Paints, 16 Open APHA Champions, two National Champions, one World Champion and one Superior All-Around."
Silly Filly
"His (Tinky's Spook's) greatest foal was Silly Filly, a 1970 bay tobiano mare bred by RoseAcre Farm. Out of Paula Shoe Shine by Paulo Dandy, the mare was sold as a yearling to William and Mary Lou Griffin, who in 1973 made her APHA's 20th Supreme Champion.
The Wonderlichs bought her back a year later. Silly Filly produced 13 foals ­ three APHA Champions and 11 National or World Champions. She was bred almost exclusively to Doc's all time favorite horse, Gallant Ghost."