PO Box 484, Pouce Coupe, British Columbia, Canada V0C 2C0
e-mail lyaciw@pris.bc.ca


and

Accepted
Updated Jan. 28/06

---
CB/QH Colts & Filly for sale
Dam is not for sale
---
Rapid Dixie Kilobar (AQHA)
Foaled 1991
14.3 hands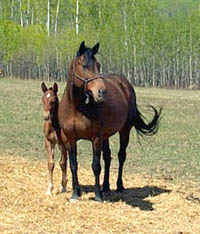 Rapid Dixie Kilobar & "Legacy Bonnie Blue", foaled spring 2001
We call this mare "Special."
Special's dam, Rhea Mare 38, was our rodeo horse. She lived to age 27 (died July 2000 of colic - she was in excellent shape and sound). Rhea was a constant winner in the rodeo arena, and qualified for the Alberta finals - she was one of the outstanding pole bending horses in this country.
Special's sire was also very long-lived. Special is one of the last foals by Red Kilobar, who was a champion cutting horse by King Leo Bar.
Special has never reached her potential to excell as all our riders have left home. She is broke to ride. She is very short coupled, has short legs, and looks very much like a TB when she is ridden hard and is in shape. She is wide across the chest and well put together. She is very quick and athletic with a nice long stride. She is not spooky.


1994 - Sonitas Rapid Dixie, AQHA, colt - sire "Tonka Dixies Last" - QH, by "Sonita's Last", by "Peppy San" - sold locally (Farmington)
2000 - Peppy Kilopep, AQHA - colt, sire "Peppy Leotoe" - QH - sold to Manning, Alberta as stallion prospect
2001 - Legacy Bonnie Blue, big chestnut colt by Forest Fellow - sold to Washington
2002 - Legacy Cola, big bay colt by Forest Fellow, foaled May 13 - sold to Maryland
2003 - Legacy Diesel, big bay colt with star by Forest Fellow, foaled May 13 - For Sale


Pedigree: Rapid Dixie Kilobar (Special)
| | | | |
| --- | --- | --- | --- |
| | | | Leo Bar |
| | | King Leo Bar | |
| | | | Totsey H |
| | Red Kilobar | | |
| | | | Page Lee |
| | | Red Page | |
| | | | Miss Blitz |
| | | | |
| Rapid Dixie Kilobar | | | Rapid Bar (by Three Bars - TB) |
| | | Dixie Beaver | |
| | | | Beaver's Susan |
| | Rhea Mare 38 | | |
| | | | Star Mason |
| | | Rhea Mason Lady | |
| | | | Flo Rhea |