PRICES
#150 - No snap, 1-inch web
Draft, XL, Lrg, Med, Ylg, Small
$48
---
#151 - With snap, 1-inch web
Draft, XL, Lrg, Med, Ylg, Small
$50
---
#152 - Foal size, no snap,
3/4-inch web
$48
---
LEADS
#155 - Tri-colour to match halters, 3/4" polypropylene, 8 feet long
specify bolt or bull snap
$17.50

---
#M150 - Miniature halters
newborn through X-large sizes
$36
3/8" polypropylene rope leads
to match
$15.50
---
We have supplied award halters to many clubs, both Canadian and American, for many years. This repeat business is our best assurance to you that these halters have been well received by winners and club prize committees.
For orders of 25 or more please ask for a special-price quote. Please provide your location and postal code or zip number.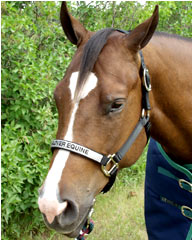 1" super-strong premium soft nylon webb
heavy duty hardware and double bar tongue buckle
triple stitched
COLOURS
Red, purple, navy blue, burgundy, sand, hunter green, royal blue, black
SIZES
Draft
XL - 1400 lbs. and up
Large - 1100-1400 lbs
Medium - 800-1000 lbs.
Yearling - 500-800 lbs
Weanlings/Ponies (Small)
- 300-500 lbs
Suckling - under 300 lbs
Miniature: newborn, yearling, small, medium, large, X-large.
Your choice of white or black web overlay with text written in matching thread color of halter, unless you specify otherwise.
Prices quoted includes embroidered text. Text can be up to 16 spaces/letters for noseband or 12 spaces/letters for cheekpiece on large size halters. Less room for smaller halters.
Allow four weeks for delivery to most places in Canada if halter is drop shipped direct via parcel post from the manufacturer to you. There is an extra charge of $5 for drop shipping.
Sorry, we cannot accept returns on personalized halters unless they are defective.
USE YOUR IMAGINATION FOR EMBROIDERY WORK!
Farm or Ranch Name
Breed Name (for Rare Breeds)
Club Awards
Horse Name
Disposition Warning!
Phone number for Escape Artist