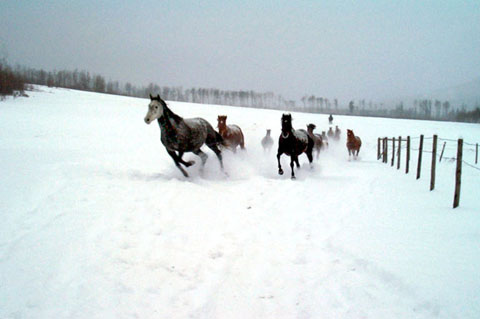 Here come the broodmares!

updated May 10, 2003

PO Box 484, Pouce Coupe, British Columbia, Canada V0C 2C0
Phone (250) 786-5860
e-mail lyaciw@pris.bc.ca
Legacy Cleveland Bay farm is a quarter section located in the northeastern portion of British Columbia, Canada, close to Mile Zero of the Alaska Highway at Dawson Creek, and close to the Alberta border. We also have a small acreage several miles from the farm where we live, have a small tackshop, and also keep some horses. Sometimes I call the girls, Jane and Leah, and son Chris, back home to give me a hand.
On the farm are Quarter Horse and Thoroughbred mares. I stand at stud our very rare Cleveland Bay stallion, Forest Fellow. I produce sport horses, performance horses, pleasure and working horses. My horses have sold locally in the Peace River area, and as far away as Ontario, plus we have exported to several American states. See the locator map to see if there are any of Fellow's progeny in your area. I get very busy in breeding and foaling season. We are pretty far north, so usually the horses don't loose their winter hair until late May or even the beginning of June.
Our small tack shop keeps me in touch with the local equine community. I carry mostly western tack, with a bit of English, no clothing.
Visitors are always welcome. Give me a call at (250) 786-5860.
Linda Yaciw